Michele Mathre
ADAPT Certified Functional Health Coach
Saint Petersburg, FL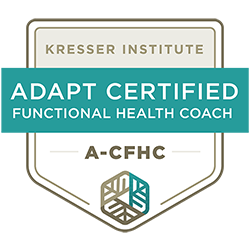 The Present: I live in my husband's hometown of Saint Petersburg, FL (no snow, ever!) where I work part time in the quality department at an aerospace certified precision machine shop and am in the third year of homeschooling our 13-year-old son.
The Past: I grew up in beautiful Canton, OH and earned a Bachelor of Arts from The Ohio State University in Columbus, OH.
Other Words to describe me: daughter, sister, friend, wife, mother, cat-mom, homeschooler, musician, employee, boss, yogi, martial artist, CrossFit-er, reader, writer, editor, health coach, thyroid health champion, lung health champion, weight loss champion, sleep champion, paleo template champion.